Category: General Announcements
Participation of FORTH/ICE-HT in the EUandU online conference of the European Commission in Greece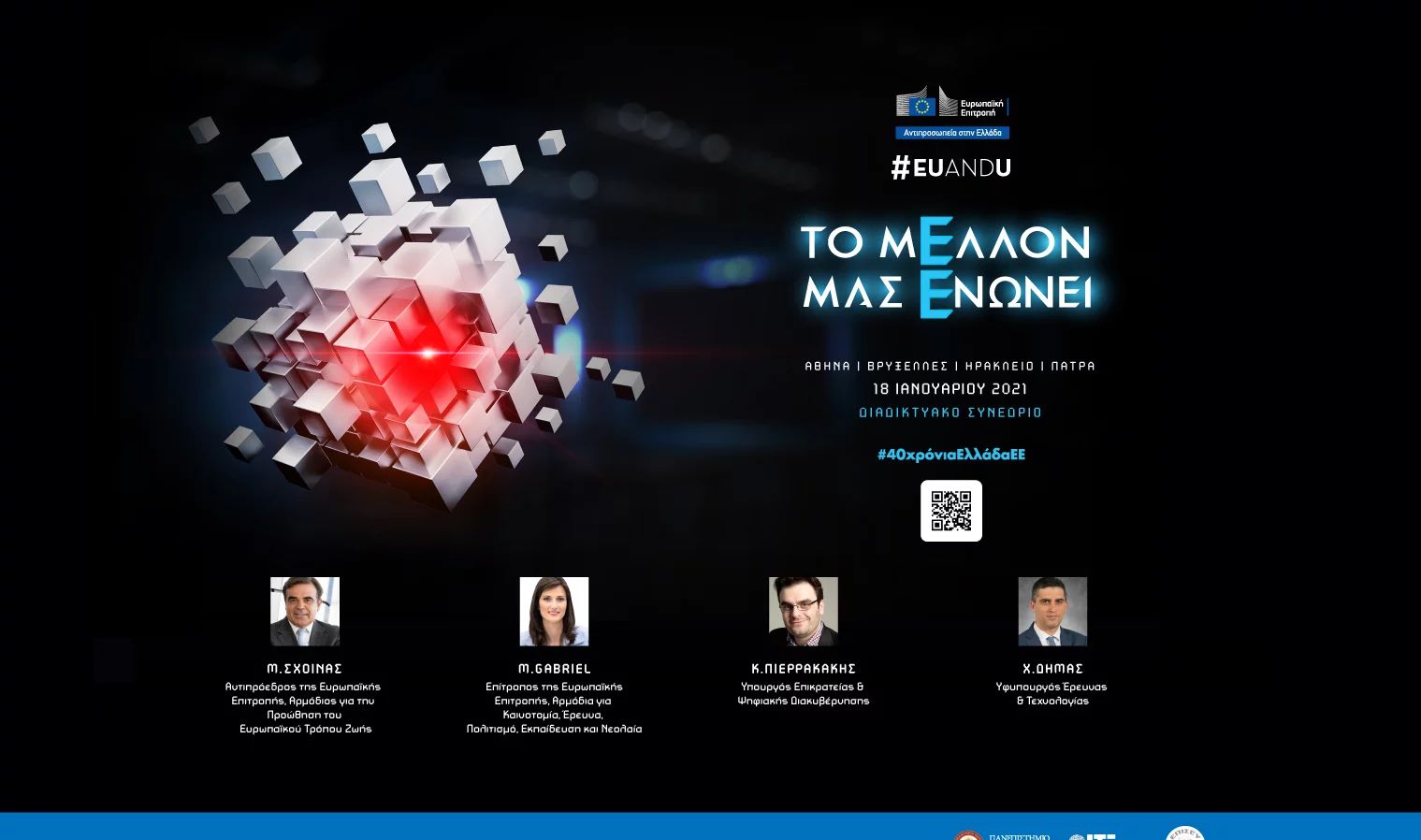 ---
The European Commission in Greece organized on Monday, 18 January 2021, an online conference on "Science and innovation in our daily life".
The Conference focused on research, technology and innovation, as well as on the connection of their applications with the market and the daily life of citizens. The aim was to familiarize young people with the work that is performed in research centers and the resulting innovation in the fields of the future: the European Green Deal, the Transition to the Digital Era and the Medical and Biomedical Research.
The keynote speaker of the conference was the Vice President of the European Commission, responsible for the Promotion of the European Lifestyle, Mr. Margaritis Schinas and the main participants were the European Commissioner, responsible for Innovation, Research, Culture, Education and Youth, Ms. Maria Gabriel, the Minister of Digital Governance, Mr. Kyriakos Pierrakakis and the Deputy Minister of Research and Technology, Mr. Christos Dimas.
The Institute of Communication and Computer Systems (ICCS) of the National Technical University of Athens, the Foundation for Research and Technology – Hellas (FORTH) and the University of Patras (UP) participated in the conference.
FORTH/ICE-HT participated in all three thematic sections, namely, in the section of Green Deal with Dr. Dimitris Niakolas' talk on "Technological and Business development of the next generation of ceramic fuel cells and electrolysis for the production / storage of Green Energy", in the Digital Transition with Prof. Spyros Pandis' talk on "Nanoparticles in the air we breathe: Impact on health and climate change" and in Biomedical Research with Dr. Ioannis Papantoniou' talk on "Automated technologies for the development of personalized cell therapies".