Category: General Announcements
FORTH/ICE-HT at the 85th Thessaloniki International Fair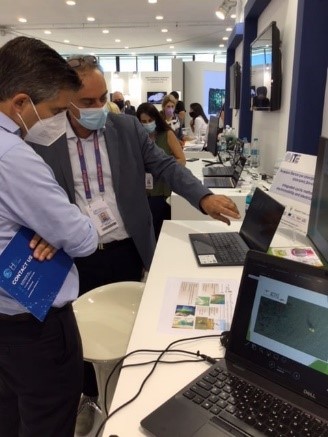 ---
The Institute of Chemical Engineering Sciences (ICE-HT) participated in the 85th Thessaloniki International Fair with two exhibits in the FORTH demonstration area at the stand 7 of the General Secretariat for Research and Innovation (GSRI). The Fair takes place from 11 to 19 September, 2021.
The first ICE-HT exhibit was presented through a video on the Sustainable network for electric propulsion and green electric bio-energy. The video showed the integrated use of innovative technologies developed by ICE-HT researchers in the context of the circular economy, for the production of electricity from renewable sources, and the reduction of air pollution that is caused by fossil fuel power plants, through bio-conversion of carbon dioxide into biofuels and useful chemicals. The second exhibit Art Protection and Preservation with Graphene presented the use of graphene, a material with significant properties, as transparent coating of artworks on display in museums and galleries to protect them from environmental degradation, such as fading, yellowing and discoloration.
During the first days of the Fair, the FORTH exhibits have been visited by the Minister of Development and Investment Mr. Adonis Georgiadis, the Secretary General of Research and Innovation Prof. Athanasios Kyriazis, and the Deputy Minister of Development and Investment, Mr. Christos Dimas.