Category: General Announcements
FORTH/ICE-HT at the 25th Forum of Development, Patras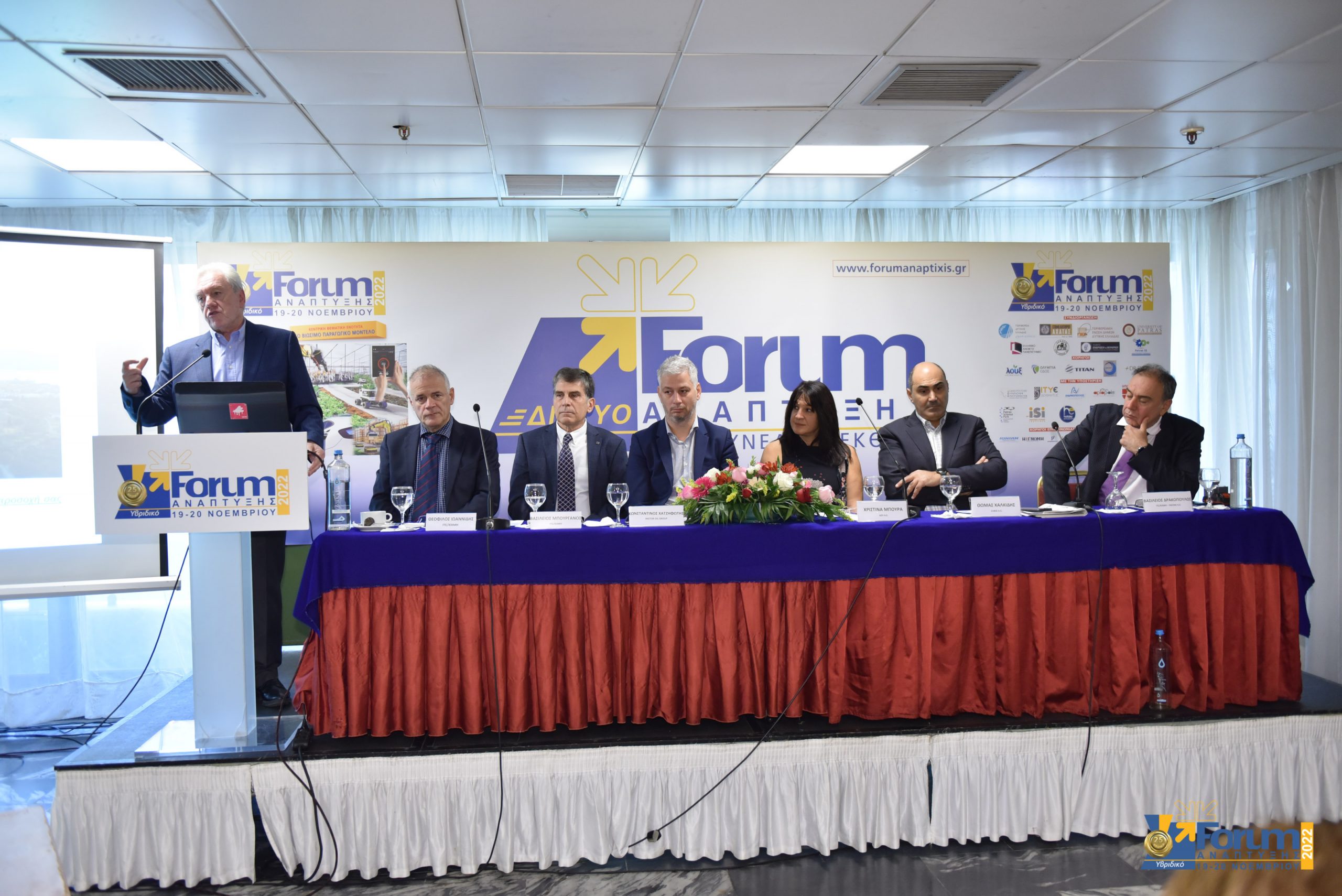 ---
The conference event of the Institute of Chemical Engineering Sciences of the Foundation for Research and Technology-Hellas (FORTH/ICE-HT), on "New Technologies in Energy and Industrial Production" took place on Sunday 22 November, 2022, at the ASTIR Hotel in Patras, in the framework of the 25th Forum of Development.
The discussion was moderated by Dr. Theophilos Ioannides, Research Director at FORTH/ICE-HT.  The Director of the Institute, Dr. Vasilis Burganos, introduced the event, presented the main research areas and objectives of the Institute, and noted especially the contribution of the Institute and FORTH to the Region of Western Greece on issues of technology, innovation, and societal challenges.  The event was addressed by the Deputy Minister of Development and Investment for Research and Innovation issues, Mr. Christos Dimas, through a letter that was communicated to the audience by the Director of the Institute, the General Secretary of Research and Innovation, Prof. Athanasios Kyriazis, the President of the Federation of Enterprises of Peloponnese and Western Greece, Prof. Kleomenis Barlos, and the President of the Technical Chamber of Western Greece, Mr. Vassilis Aivalis.
The first invited speech was given by Mr. Konstantinos Chadjifotis, Manager of European Affairs of Motor Oil Group, who referred to the role of Research & Innovation in the energy transition strategy of Motor Oil. Then, Ms. Christina Boura, Director of the Branch of Architecture and Security of Information, of PUBLIC POWER CORPORATION S.A, presented the topic "Evolution as a cornerstone of innovation".  The next speaker was Mr. Thomas Chalkidis, Managing Director of Hydrogen & Energy Production Systems (HELVIO S.A.), who developed the topic "Cogeneration of electricity and heat from multiple fuels through hydrogen". The session ended with Dr. Vassilios Drakopoulos, Senior Application Scientist of ICE-HT and scientist in charge of the Hellenic Centre for Additive Manufacturing (H-CAM S.A.), who presented the "3D printing technology in the production process and the development of entrepreneurship".
The event was attended by delegates from the private and public sector, members of the academic and research community, and general audience.
FORTH/ICE-HT also participated in the Forum of Development with its own booth, where the Institute activities were showcased throughout the event.  The stand was also visited by the Deputy Minister of Development and Investment, Mr.  Nikos Papathanassis.