VLACHOS, Kyriakos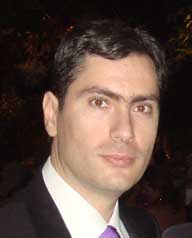 VLACHOS, Kyriakos
Professor
Dept. of Computer Engineering & Informatics
University of Patras, Greece
Search
Research Project, Scientists etc
Search
EDUCATION
2001: PhD in Electrical and Computer Engineering, NTUA Athens, Greece
1998: PhD in Electrical and Computer Engineering, NTUA Athens, Greece
RESEARCH ACTIVITIES
Photonic technology for fiber components; Tunable devices, Fiber sensors and transmission systems; Advanced Optical Modulation techniques, Wideband optical components.
PREVIOUS EMPLOYMENT
2021-current: Professor, Department of Computer Engineering & Informatics, University of Patras
2014-2021: Associate Professor, Department of Computer Engineering & Informatics, University of Patras
2005- 2013: Assistant Professor, Dept. of Computer Engineering & Informatics, Univ. of Patras, Greece
2003-2005: Research Associate, Delft University of Technology
2001-2003: Member of the Technical staff, Bell-Labs, Lucent Technologies
PARTICIPATION IN RESEARCH PROJECTS
Participation in various EU (ICT-BONE, ICT-DICONET) and National funded projects. (SYNERGASIA, THALES).
PUBLICATIONS IN SCIENTIFIC JOURNALS
(co) author of more than 60 journal publications.
PRESENTATIONS AT CONFERENCES
co) author of more than 60 conference publications.
TEACHING ACTIVITIES
Transmission Information Systems, Optical Networks, Fiber Optics, Telecommunication Systems.
EDITORSHIP AND BOOKS
Optical Switching and Networking (Elsevier).
SELECTED PUBLICATIONS
Christos Markos, Spyros N. Yannopoulos and Kyriakos Vlachos, "Chalcogenide glass layers in silica photonic crystal fibers", OSA Optics Express Vol. 20 Issue 14, pp.14814-14824 (2012).
Fotini Karinou, Robert Borkowski, Darko Zibar, Ioannis Roudas, Kyriakos Vlachos, and Idelfonso Tafur Monroy, "Advanced Modulation Techniques for High Performance Computing Optical Interconnects", to appear in IEEE J. in Selected Topics in Quantum Electronics.
C. Markos, K. Vlachos and G. Kakarantzas, "Numerical investigation of a hybrid polymer/silica photonic crystal fiber: guiding and thermal properties", OSA Optical Materials Express, Vol. 2 Issue 7, pp.929-941 (2012).
Christos Markos, Wu Yuan, Kyriakos Vlachos, Graham E. Town, and Ole Bang, "Label-free biosensing with high sensitivity in dual-core microstructured polymer optical fibers" OSA Optics Express, Vol. 19, No. 8, pp. 7790-7798, April 2011.
K. Vlachos, I.T. Monroy, A.M.J. Koonen, C. Peucheret and P. Jeppesen "STOLAS: Switching Technologies for Optical Label Signals", IEEE Communications Magazine, vol. 41, no. 11, pp. 43-49, November 2003.