YANNOPOULOS, Spyros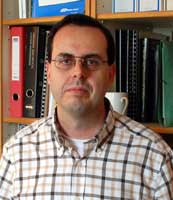 YANNOPOULOS, Spyros
Professor
Dept. of Chemistry
University of Patras, Greece
Search
Research Project, Scientists etc
Search
EDUCATION
1996: PhD in Chemical Engineering, Univ. of Patras, Greece
1990: B.S. Physics, Univ. of Patras, Greece
RESEARCH ACTIVITIES
Research activities are focused on two main directions:
A. Nanomaterials – Nanoscience – Nanotechnology
Fabrication of high-quality graphene-based hybrid nanomaterials from inorganic (metal carbides) and organic (polymers and biomass-based raw materials) compounds at ambient conditions, using novel laser-assisted methodologies:(i) R2R-compatible laser-assisted in-situ graphene deposition on textiles and flexible substrates.
(ii) Laser-scribed-graphene electrodes for energy harvesting (triboelectric nanogenerators for batteryless flexible electronics), and electrochemical energy storage devices (flexible microcapacitors)
(iii Epitaxial graphene growth on SiC wafers using IR lasers
(iv) Graphene-coated nanocomposites, (graphene-coated metal carbide particles at the micro- and nano-scale)
Developing rational bottom-up synthetic routes (wet chemistry and CVD) for the controlled growth of 1-D nanostructures (ZnO-based) and heterostructures (core/ sheath nanowires):
(i) Energy conversion: optimizing the anode/cathode active materials for dye-sensitized solar cells; improving the anode nanostructures of photo-electrochemical devices for H2 evolution
(ii) Photocatalytic applications: defect and morphology engineering of nanocrystals for waste-water treatment; advancing immobilized photocatalysts for large-scale reactors
(iii) Gas sensors: synthesis of heterostructures of nanostructures with various morphologies to achieve high sensitivity/selectivity and device operation at room temperature for dangerous gasses, such as CO
(iv) (Nano)photonics: optimizing the morphology of nanowire arrays for realizing SERS substrates; long-persistent luminescent crystals
CVD and PVD growth of 2-D few-layer transition metal dichalcogenide (TMDCh) crystals
(i) Direct PVD growth of 2-D TMDCh crystals on TM foils for catalytic applications (counter electrodes of DSSCs)
(ii) CVD growth of vertical heterostructures (alternating stacks of different 2-D materials with improved electrical and optical properties)
(iii) Combinatorial growth of 1-D and 2-D materials in core-sheath structures for visible light photo-electrochemical cells (water splitting)
(iv) Nanoscale engineering 2-D crystals for tribological applications
Structure and dynamics of the fluids and crystals confined in nanopores
Fabrication and characterization of low-dimensional nanoparticles by laser ablation
B. Glasses / Glass transition and Light-Sensitive Amorphous Semiconductors:
Understanding structure and dynamics of a diverse family of glasses, supercooled liquids and melts (halide, oxide, and chalcogenide glasses)
Amorphous semiconductors: photoinduced phenomena in chalcogenide glasses: athermal photoplastic phenomena, athermal reversible photo-crystallization, phase-change materials, Raman amplifiers
Understanding structure-property relations in bioactive glasses
PREVIOUS EMPLOYMENT
12/2016 – today: Research Director, FORTH/ICE-HT, Greece
01/01/2005 – 11/2016: Principal Researcher, ICE/HT-FORTH, Greece
11/2001-31/12/2004: Associate Researcher, ICE/HT-FORTH, Greece
03/1999-10/2001: Assistant Researcher, ICE/HT-FORTH, Greece
11/1996-06/1997: Post-Doctoral Fellow, ICE/HT-FORTH, Greece
PARTICIPATION IN RESEARCH PROJECTS
Participation as PI and principal researcher in more than 30 European, international and nationally funded R&D projects and several Bilateral Collaborations.
PUBLICATIONS IN SCIENTIFIC JOURNALS
152 scientific articles in peer-reviewed journals (ISI); h index: 33 (WoS), 33 (Scopus), 38 (Google Scholar); 5 Invited chapters in international books; 11 Articles and reviews in international books; 1 PCT patent.
PRESENTATIONS AT CONFERENCES
More than 120 Poster Presentations in international conferences; 35 Invited Oral Presentations.
PROFESSIONAL AFFILIATIONS
1994-today: Member of the American Physical Society
2003-today: Member of the American Association for the Advancement of Science
2004-today: Member of the Optical Society of America
1999-today: Member of the Hellenic Researchers Society (ΕΕE)
SELECTED PUBLICATIONS
M. Athanasiou, N. Samartzis, L. Sygellou, V. Dracopoulos, Th. Ioannides, and S. N. Yannopoulos "Laser-assisted growth of high-quality graphene-like structures from raisins biomass", Carbon 172, 750-761 (2021).
G. Syrrokostas, A. Dokouzis, S. N. Yannopoulos, G. Leftheriotis, "Novel Photoelectrochromic Devices Incorporating Carbon-Based Perovskite Solar Cells", Nano Energy 77, 105243 (1-10) (2020).
B. Domi, K. Bhorkar, C. Rumbo, L. Sygellou, S. N. Yannopoulos, R. Quesada, J. A. Tamayo-Ramos, "Fate assessment of commercial 2D MoS2 aqueous dispersions at physicochemical and toxicological level", Nanotechnology 31, 445101 (2020).
S. Cazzato, A. Chrissanthopoulos, M. Micoulaut, T. Scopigno, S. N. Yannopoulos, "Complex dynamics in nanoscale phase separated supercooled liquids", Phys. Rev. Res. 2, 032007(R) (2020), Rapid Communication.
S. N. Yannopoulos, "Structure and photoinduced effects in elemental chalcogens: a review on Raman scattering", J Mater Sci: Mater Electron 31, 7565-7595 (2020).
T. Vasileiadis, V. Dracopoulos, M. Kollia, L. Syggelou and S. N. Yannopoulos, "Laser mediated synthesis of t-Te and a-Se nanospheres", J. Nanopart. Research., 21, 218 (1-8) (2019).
G. Syrrokostas, K. Govatsi, G. Leftheriotis, and S. N. Yannopoulos, "Platinum decorated zinc oxide nanowires as an efficient counter electrode for Dye Sensitized Solar Cells", J. Electroanal. Chem. 835, 86-95 (2019).
Antonelou, L. Sygelou, K. Vrettos, V. Georgakilas and S. N. Yannopoulos, "Efficient defect healing and ultralow sheet resistance of laser-assisted reduced graphene oxide at ambient conditions", Carbon 139, 492-499 (2018).
K. Govatsi, A. Seferlis, S. Neophytides, and S. N. Yannopoulos, "Influence of the morphology of ZnO nanowire arrays on the photo-electrochemical water splitting efficiency", Intern. J. Hydr. Energy, 43, 4866-4879 (2018).
[124] G. Syrrokostas, A. Antonelou, G. Leftheriotis, and S. N. Yannopoulos, "Electrochemical properties and long-term stability of MoS2/Mo and Pt/FTO electrodes: A comparative study", Electrochimica Acta 267, 110-121 (2018).
V. Benekou, L. Strizik, T. Wagner, S. N. Yannopoulos, A. L. Greer, and J. Orava, "In-Situ Study of Athermal Reversible Photocrystallization in a Chalcogenide Glass", J. Appl. Phys. 122, 173101 (2017).
Aggelopoulos, M. Dimitropoulos, K. Govatsi, L. Sygellou, C. D. Tsakiroglou, and S. N. Yannopoulos, "Influence of the Surface-to-Bulk Defects Ratio of ZnO and TiO2 on their UV-mediated Photocatalytic Activity", Appl. Cat. B.: Environmental 205, 292-301 (2017).
G. Syrrokostas, K. Govatsi, and S. N. Yannopoulos, "High-Quality, Reproducible ZnO Nanowire Arrays Obtained by a Multiparameter Optimization of Chemical Bath Deposition Growth", Cryst. Growth Des. 16, 2140-2150 (2016).