PAPATHEODOROU, George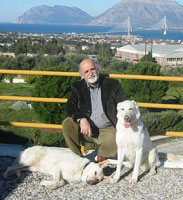 PAPATHEODOROU, George
FORTH Distinguished Member
Professor Emeritus
Dept. of Chemical Engineering
University of Patras, Greece
Search
Research Project, Scientists etc
Search
EDUCATION
1969: PhD in Physical Chemistry, Univ. of Chicago, USA
1968: MS in Chemical Physics, Univ. of Chicago, USA
RESEARCH ACTIVITIES
Experimental physical chemistry of inorganic materials. Vibrational / electronic absorption spectroscopy of high temperature inorganic vapors, molten salts, ionic liquid and glasses. Applications of light scattering spectroscopies.
Participation in Research Projects:
Coordination of E.U. Projects: BRITE, NETWORK and SCIENCE programmes and partner in BRITE, NATO, STRIDE,JOULE and IP programmes. Coordinator in National Competitive Projects.
Publications:
Over 160 publications (1967-2020) with hindex=36 ( web science) ; 41 (google scholar).
Conference Participation:
Over 150 lectures in conferences, member of the organising committee in various conferences and chairman of the EUCHEM 1990 Conference. Over 50 papers in Conference proceedings.
PREVIOUS EMPLOYMENT
2002- : FORTH Distinguished Member
2008- : Professor Emeritus, University of Patras.
1981-2006: Professor, Chemical Engineering Department, University of Patras.
1978-1989: Visiting Professor, Chemistry Dept., Technical Univ. of Denmark, Lyngby, DENMARK.
1974-1981: Senior Scientist, Chemical Engineering Division Argonne National Laboratory, USA.
1971-1974: Senior Research Associate, The James Franck Institute, Univ. of Chicago, USA.
1970-1971: U.S.-AEC Fellow, Ames National Laboratory, USA.
1969-1970: Associate Scientist, Oak Ridge National Laboratory, USA.
1964-1969: Research and Teaching Assistant, Univ. of Chicago, USA.
AWARDS
Max Bredig Award -U.S. Electrochemical Society 2002.
FORTH Distinguished Member 2002.
U.S. Atomic Energy Commition Fellow 1970-71.
Reynolds Fellow, Univ. of Chicago 1964-69.
OTHER PROFESSIONAL ACTIVITIES
Administrative /Science policy Positions:
1981-1984: Vice President, Greek Atomic Energy Commission.
1982-1984: First Chairman, Dept. of Chem. Eng. Univ. of Patras, GREECE.
1984-1986: Member, Senior Scientific Officials of the Council of Europe.
1984-1993: First Appointed Institute Director, FORTH/ICE-HT.
1993-1998: First Elected Institute Director, FORTH/ICE-HT.
1987-1988: Vice President, National Advisory Research Council, Greece.
1988-1989: Secretary General for Research and Technology , Greek Ministry of Development.
1988-1989: Member, Group Research, DG-XII, European Union.
1989-1995: Deputy Director, FORTH.
1987-1990: Member, Scientific Board of the "Democritos" National Research Center.
1994-2004: Member, NATO Science Committee.
1996-2003: Chairman, Scientific Board of the National Hellenic Research Foundation.
PROFESSIONAL AFFILIATIONS
American Chemical Society, American Physical Society, Electrochemical Society.
TEACHING ACTIVITIES
25 years of teaching in the Dept. of Chem. Eng., Univ. of Patras: chemical thermodynamics, physical chemistry, chemical physics.
SELECTED PUBLICATIONS
A.G. Kalampounias , G.N. Papatheodorou (2020)
Spectophotometric study of gaseous species over molten HoCl3, LiCl-HoCl3 and CsCl-HoCl3 at temperatures up to 1500K
J. Mol. Structure 1206 : 127707
K.Demyk, C. Meny, X-H. Lu, G.N.Papatheodorou, et.al. (2017)
Low temperature MIR to submillimeter mass absorption coefficient of interstellar dust analogues-I. Mg-rich glassy silicates
Astronomy and Astrophysics 600:A123
A G Kalampounias, S N Yannopoulos, G N Papatheodorou (2006)
Temperature- induced structural changes in glassy, supercooled, and molten silica from 77 to 2150 K
Journal of Chemical Physics 124: 01450415 01
G M Photiadis, B Borresen, G N Papatheodorou (1998)
Vibrational modes and structures of lanthanide halide-alkali halide binary melts: LnBr3-KBr(Ln= La, Nd, Gd) and NdCl3-ACl(A = Li, Na, K, Cs)
J. Chem. Soc., Faraday Trans. 94: 2605
M Bachtler, W Freyland, G Voyiatzis, G N Papatheodorou (1995)
Electrochemical and simultaneous spectroscopic study of reduction-mechanism and electronic conduction during electrodeposition of tantalum in molten alkali chlorides
Berichte der Bunsen-Gesellschaft-Physical Chemistry Chemical Physics 99: 21
S Boghosian, G N Papatheodorou (1989)
Evaluation of Stolchiometric Coefficients and Thermodynamic Functions of Vapor Complexes Using Raman Spectroscopy: The Systems ZrX4-AlX3(X = Br, CI)
Journal of Physical Chemistry 93: 415
G N Papatheodorou, R W Berg (1980)
Laser-induced fluorescence of high-temperature vapor complexes of ErCl3 with AlCl3, GaCl3, AND lnCl3
Chemical Physlcs Letters 75: 487.
G N Papatheodorou (1977)
Raman spectroscopic studies of yttrium(III) chloride-alkali metal chloride melts and of Cs2NaYCl6 and YCl3 solid compounds
Journal of Chemical Physics 66: 2893
G N Papatheodorou (1973)
A spectrophotometric study of the paladium(II) chloride – aluminum chloride vapor complex
Journal of Physical Chemistry 77: 472
G N Papatheodorou, O J Kleppa (1967)
Enthalpies of mixing of some binary alkaline-earth chlorides
Journal of Chemical Physics 47: 2014