MAVRANTZAS, Vlassis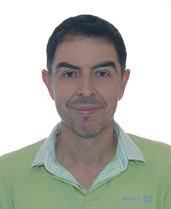 MAVRANTZAS, Vlassis
Professor
Dept. of Chemical Engineering
University of Patras, Greece
Search
Research Project, Scientists etc
Search
EDUCATION
1994: PhD in Chemical Engineering, Univ. of Delaware, USA
1988: Diploma in Chemical Engineering, NTU, Athens, Greece
RESEARCH ACTIVITIES
Modeling and simulation of polymers and of soft nanostructured polymeric materials at multiple time and length scales (atomistic, mesoscopic, macroscopic)
Chain dynamics and rheology (viscoelasticity) in polymers as a function of the molecular architecture of the chains (linear, branched, rings)
Thermodynamics of complex fluids under non-equilibrium conditions
Constitutive modeling of polymer melt viscoelasticity
Calculation of multi-time correlation functions in dissipative quantum field theories
Structure and dynamics of nanoparticles
PREVIOUS EMPLOYMENT
2011 – today: Professor, Dept. of Chem. Eng., Univ. of Patras
2003-2011: Associate Professor, Dept. of Chem. Eng., Univ. of Patras
2001-2003: Principal Researcher, FORTH/ICE-HT
1997-2001: Associate Researcher, FORTH/ICE-HT
1996-1997: Post-Doctoral Fellow, FORTH/ICE-HT & Dept. of Chem. Eng., Univ. of Patras
1994-1996: Greek Army
1989-1994: Research Assistant, Dept. of Chem. Eng., Univ. of Delaware, USA
1988-1989: Research Assistant, Dept. of Technical Chemistry, ETH-Zurich, Switzerland
AWARDS
Several Journal covers and best poster awards
Alan P. Colburn Best Engineering PhD Thesis Award, Univ. of Delaware (1993-1994)
University of Delaware Competitive Fellowship (1991-1992)
Outstanding Undergraduate Student Excellence Awards, annually 1983-1988, NTU, Athens
PARTICIPATION IN RESEARCH PROJECTS
Participation in 8 European (Horizon, FP7, Growth, Marie-Curie, Brite-Euram) programmes, in 2 of them as project coordinator.
Participation in 12 Greek (Synergasia, Pened, Akmon, Pythagoras, Caratheodori) programmes, in 4 of them as project coordinator.
Participation in 4 industrial projects (with Unilever, BP-Amoco, and Dow Benelux/Dow Chemicals).
Participation in 2 NATO programmes.
PUBLICATIONS IN SCIENTIFIC JOURNALS
125 refereed journal papers. 78 papers in non-referred conference proceedings. 1 book (Statistical Thermodynamics) for the Hellenic Open University. 1 book in preparation (with Doros N. Theodorou: Multi-scale Modelling of Polymers) for Oxford University Press. 11 chapters in books. 4 Special Journal Volumes Edited.
PRESENTATIONS AT CONFERENCES
Presentation in 290 international and national conferences. 35 invited lectures in Universities, Research Centres and Conferences.
OTHER PROFESSIONAL ACTIVITIES
Administrative Positions:
Secretary-Treasurer, Hellenic Society of Rheology (HSR), September 2006-to date.
President of the Hellenic Society of Rheology (HSR), September 2004-September 2006.
Director, Inter-department Programme of Graduate Studies on "Polymer Science and Technology", University of Patras, 2003-2013.
PROFESSIONAL AFFILIATIONS
Section Editor-in-Chief, Polymer Physics, Polymers, MDPI (since 2020).
Associate Editor, Soft Matter Physics, Frontiers in Physics (since 2018).
Member, International Advisory Board, Macromolecular Theory and Simulation, Wiley-VCH, Germany (since 2005).
TEACHING ACTIVITIES
Undergaduate: Physical Chemistry, Technical Thermodynamics and Balances, Mass Transfer, Special topics in Physical Chemistry
Graduate: Thermodynamics, Polymer Rheology, Statistical Mechanics and Molecular Simulation, Diffusional Operations.
SELECTED PUBLICATIONS
V.G. Mavrantzas, "Using Monte Carlo to simulate complex polymer systems: Recent progress and outlook", Frontiers in Physics 2021, 9, 661367.
E.N. Skountzos, D.G. Tsalikis, P.S. Stephanou, V.G. Mavrantzas, "Individual contributions of adsorbed and free chains to microscopic dynamics of unentangled poly(ethylene glycol) – silica nanocomposite melts and the important role of end groups: Theory and simulation", Macromolecules 2021, 54, 4470-4487.
S.D. Peroukidis, D.G. Mintis, I. Stott, V.G. Mavrantzas, "Molecular simulation of the morphology and viscosity of aqueous micellar solutions of sodium lauryl ether sulfate (SLEnS)", J. Physics: Materials 2021, 4, 044001.
A. Weyman, V.G. Mavrantzas, H.C. Ottinger, "Field-theoretic simulations beyond δ-interactions: Overcoming the inverse potential problem in auxiliary field models", J. Chem. Phys. 2021, 155, 024106.
E.N. Skountzos, K.S. Karadima, V.G. Mavrantzas, "Structure and dynamics of highly attractive polymer nanocomposites in the semi-dilute regime: The role of interfacial domains and bridging chains", Polymers 2021, 13, 2749.
P.V. Alatas, V.G. Mavrantzas, H.C. Ottinger, "Third-order perturbation expansion of the two-point correlation function of the dissipative quantum φ4 theory", Phys. Rev. D 2021, 104, 076007 (2021).