KOUTSOUKOS, Petros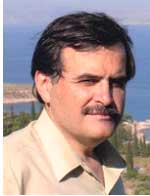 KOUTSOUKOS, Petros
Professor Emeritus
Dept.of Chemical Engineering
University of Patras, Greece
Search
Research Project, Scientists etc
Search
EDUCATION
1984: Ifigesia, Univ. of Patras, Greece
1980: PhD in Physical Inorganic Chemistry, State Univ. N.Y. at Buffalo,
USA
1974: Diploma in BA, School of Economics (ASOEE), Athens, Greece
1972: Diploma in Chemistry, Univ. of Patras, Greece
RESEARCH ACTIVITIES
Scale formation. Corrosion and Scaling in Geothermal and other water handling Systems. Scale Formation and Prevention in Industrial Processes. Fouling in Aquatic Systems. Physicochemical processes in natural waters. Phosphorus Recovery from Wastewater. Fundamental Scientific Aspects for the Development of Protection and Restoration Methods for Historic monuments. Biological Mineralization. Preparation of Catalysts. Purification of Crystals by Melt Crystallisation. Crystal growth and Dissolution of Soluble Salts.
PREVIOUS EMPLOYMENT
2006-2007: Acting Director FORTH-ICEHT
2005-2007:Chairman Department of Chemical Engineering, University of Patras
1994-2004: President of the Board and CEO of the Patras Science Park S.A.
1989-1990: Member of the Supreme Chemical Council of Greece
1981-1989: Lecturer, Assistant Professor and Associate Professor, Dept. of Chem., Univ. of Patras, Greece
1980-1981: Post-Doctoral Fellow, Agricultural State Univ., The Netherlands
1980 : Post-Doctoral Fellow, State Univ. of New York at Buffalo, USA
PARTICIPATION IN RESEARCH PROJECTS
1984-Present: Participation in national and international programmes including EPET I, ΙΑΕΑ, ΝΑΤΟ, JOULE II, ENVIRONMENT, HUMAN CAPITAL & MOBILITY, ENVIRONMENT, AXIA , PAVE, PENED, CITY OF TOMORROW, MARIE-CURIE INITIAL TRAINING NETWORK.
PUBLICATIONS IN SCIENTIFIC JOURNALS
170 papers in refereed international journals, 16 peer reviewed chapters/contributions in books.
PRESENTATIONS AT CONFERENCES
Presentation in 60 international conferences (5 invited lectures).
PROFESSIONAL AFFILIATIONS
Hellenic Association of Chemists. Representative of Greece at the Working Party on Crystallisation of The European Federation of Chemical Engineering.
TEACHING ACTIVITIES
Inorganic chemistry, Suspensions-Emulsions, Separation Processes , Inorganic Materials(Dept. of Chem. Eng., Univ. of Patras, Greece) Aquatic Chemistry (Graduate school of Environmental Studies).
SELECTED PUBLICATIONS
I.Hafez, C.A.Paraskeva, PG Klepetsanis, PG Koutsoukos, Sand consolidation with calcium phosphate-polyelectrolyte composites, Jounal of Colloid and Interface Science, 363(1) 145-156 (2011).
Hermann Ehrlich, Eike Brunner, Paul Simon, Vasily V. Bazhenov, Joseph P. Botting, Kontantin R. Tabachnick, Armin Springer, Kurt Kummer, Denis V. Vyalikh, Serguei L. Molodtsov, Denis Kurek, Martin Kammer, Rene Born, Alexander Kovalev, Stanislav N. Gorb, Petros G. Koutsoukos and Adam Summers, Calcite Reinforced Silica-Silica Joints in the Biocomposite Skeleton of Deep-Sea Glass Sponges, Advanced Functional Materials, 21, 3473-3481 (2011).
Andreas Agathos, Ming Shen, Michalis Katsiboulas, Petros Koutsoukos, and Georgia Gloustianou, In Vivo Calci?cation of Glutaraldehyde-Fixed Cardiac Valve and pericardium of phocae groelandica and Pericardium of Phoca groenlandic, ASAIO J., 57, 328-332 (2011).
SG Rokidi, C.Combes, P.G.Koutsoukos, The Calcium Phosphate-Calcium Carbonate System: Growth of Octacalcium Phosphate on Calcium Carbonate. The Calcium Phosphate-Calcium Carbonate System: Growth of Octacalcium Phosphate on Calcium Carbonate, Crystal Growth & Design, 11(5), 1683-1688 (2011).
I.Kovaios, CA Paraskeva, P.G.Koutsoukos, Adsorption of atrazine from aqueous electrolyte solutions on humic acid and silica, Journal of Colloid and Interface Science, 356(1), 277-285 (2011).
G.Athanassiou, P.G.Koutsoukos, HB Jin, S.Agathopoulos, A t t a c h m e n t o f b l o o d e r y t h ro c y t e s o n z i rc o n i u m o x i d e u n d e r l a m i n a r ?ow, J.Ceramic Soc. Japan, 119(2), 120-124 (2011).
Zagklis DP, Koutsoukos PG, Paraskeva CA, A Combined Coagulation/Flocculation and Membrane Filtration Process for the Treatment of Paint Industry Wastewaters Industrial & Engineering Chemistry Research 51 (47): 15456-15462 (2012).
Rokidi S, Koutsoukos PG, Crystal growth of calcium phosphates from aqueous solutions in the presence of strontium, Chemical Engineering Science 77: 157-164 (2012).
Kokkinos PA, Koutsoukos PG, Deligianni DD, Detachment strength of human osteoblasts cultured on hydroxyapatite with various surface roughness. Contribution of integrin subunits , Journal Of Materials Science-Materials In Medicine 23 (6): 1489-1498 ( 2012).
Vavouraki AI and Koutsoukos PG, Kinetics of crystal growth of mirabilite in aqueous supersaturated solutions, Journal Of Crystal Growth 338 (1): 189-194 JAN 1 2012.