KOSTOPOULOS, Vassilis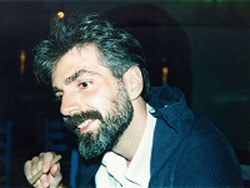 KOSTOPOULOS, Vassilis
Professor
Dept. of Mechanical Engineering & Aeronautics
University of Patras, Greece
Search
Research Project, Scientists etc
Search
EDUCATION
1987: PhD in Applied Mechanics, Mechanical Engineering & Aeronautics,
Univ. of Patras, Greece
1980: Diploma in Mechanical Engineering, NTU Athens, Greece
RESEARCH ACTIVITIES
Composite materials (analytical and numerical modelling, non-destructive techniques, thermo mechanical characterisation, fracture and fatigue of composites, experimental techniques). Design and design optimisation of composite structures. Anisotropic elasticity. Fluid-structure interaction. Fracture mechanics. Wave propagation and scattering in continuous media. Inverse problems and inversion of scattering data. Biomechanics.
PREVIOUS EMPLOYMENT
1994-1996: Visiting Scientist, Institute of Advanced Materials JRC,
EU
1988-1993: Lecturer, Dept. of Mechanical Engineering & Aeronautics,
University of Patras, Greece
1982-1998: Research and Teaching Assistant, Mechanical Engineering &
Aeronautics, University of Patras, Greece
1980-1982: Production Engineer, Hellenic Industry for Rubber and Plastics
(N. & M. Petzetakis S.A.)
PARTICIPATION IN RESEARCH PROJECTS
Project Leader of 3 current research projects funded by EU (GROWTH, BRITE)
Participation in SCIENCE, BRITE, GROWTH, STRIDE, EPET-II, PAVE and PENED programmes.
PUBLICATIONS IN SCIENTIFIC JOURNALS
1 book (Composites: from Fundamentals to Advanced Structures, 2001)
3 invited chapters in books
48 refereed journal papers, 80 papers in conferences proceedings
PRESENTATIONS AT CONFERENCES
Participation in over 50 international and national conferences (8 invited papers).
ORGANIZATION OF CONFERENCES
Member of the scientific committee of 14 International conferences and organiser of many international and national conferences and workshops.
OTHER PROFESSIONAL ACTIVITIES
2 National patents, 1 submitted.
PROFESSIONAL AFFILIATIONS
Member of CEN TC184 5C1 for technical Ceramics and Ceramic Matrix
Composites
Member of ANEC (Child Safety working group)
Member of the council of ESCM (European Society of Composite Materials)
ESIS (European Structural Integrity Society), ICTA (International Confederation
for Thermal Analysis), ESCM (European Society of Composite Materials),
IoM (Institute of Materials).
TEACHING ACTIVITIES
Vector Mechanics for Engineers, Composite Materials, Non-Destructive Testing, Wave Propagation and Scattering Theory, Anisotropic Elasticity (Dept. of Mechanical Engineering and Aeronautics, University of Patras).
SELECTED PUBLICATIONS
"On the Viscoelastic Response of Composite Laminates (Viscoelastic
Lamination Theory)", D.T. Korontzis, L. Vellios and V. Kostopoulos
Mechanics of Time Dependent Materials, 4 2000, pp. 381-405
"Toughness Characterization and Acoustic Emission Monitoring
of a 2-D Carbon/Carbon Composite", Y.Z. Pappas and V. Kostopoulos,
Engineering Fracture Mechanics, 68 2001, pp. 1557-1573
"Reliability aspects of Composite Materials Fatigue Response
Using Markov Chain Models", Y. Z. Pappas, V. Kostopoulos and
P. D. Spanos, Journal of Engineering Mechanics, 27, 9 Sept. 2001,
pp. 915-926
"Micro mechanics Of Reinforcement And Damage Initiation In
Carbon Fiber/ Epoxy Composites Under Fatigue Loading", ·
C. Koimtzoglou, V. Kostopoulos and C. Galiotis, Composites Part A,
32, 2001, pp. 457-471
"Crashworthiness Study of Composite Motorcycle Safety Helmet",
V. Kostopoulos, Y.P. Markopoulos, G. Giannopoulos and D.E. Vlachos,
Composites Part B, (accepted for publication)