KONTOYANNIS, Christos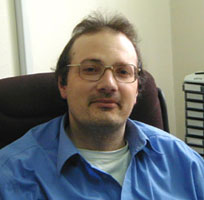 KONTOYANNIS, Christos
Professor
Dept. of Pharmacy
University of Patras, Greece
Search
Research Project, Scientists etc
Search
EDUCATION
1988: PhD in Electrochemistry, Georgetown Univ., USA
1986: M.Sc. in Analytical Chemistry, Georgetown Univ., USA
1983: Diploma in Chemistry, Univ. of Patras, Greece
RESEARCH ACTIVITIES
New Diagnostic Tools for Bone Diseases
Drug Polymorphic Stability and Identification in Formulations
Development of non-destructive analytical methods using spectroscopic (Raman, IR, XRF) and electrochemical techniques (DPP, Impedance spectroscopy, CV). Applications in bio-ceramics, drugs, urinary stones, bones, liposomes, polymers etc.
</ul
PREVIOUS EMPLOYMENT
2002-2007: Associate Professor, Dept. of Pharmacy, Univ. of Patras, Greece
1995-2002: Assistant Professor, Dept. of Pharmacy, Univ. of Patras, Greece
1991-1995: Lecturer, Dept. of Pharmacy, Univ. of Patras, Greece
1990-1991: Post-Doctoral Fellow, ICE/HT-FORTH, Greece
1983-1986: Teaching Assistant, Georgetown University
AWARDS
Greek State Scholarship (1983).
Teaching Fellowship (1983-1986) and Research Fellowship (1986-1988), Georgetown University.
Honorary Fellowship-Electrochemical Society (1985-1988).
European Science Foundation Fellow (1994).
3rd Poster Prize NATO Advance Study Institute on "Molten Salts: from Fundamentals to Application" (2001).
1st and 2nd Poster prize for the posters: Monitoring the transformation of Anagrelide HCl phase II to free base in capsules during stability studies" (Graduate student G. Manika) and «Searching for the Chemical Changes induced by osteoarthritis on Human Meniscus Using Raman Spectroscopy» (Graduate student P. Papaspyridakou), 2nd Conference of Pharmaceutical Sciences, 9-11 October 2014, Patras, Greece.
2nd prize for the poster: "Monitoring Fracture Healing in Mice Tibia Using Raman Spectroscopy and X-ray Microtomography" (Graduate student P. Giannoutsou), 12th International Conference on Instrumental Methods of Analysis: Modern Trends and Applications, September 20-23, 2021.
PARTICIPATION IN RESEARCH PROJECTS
1990-2020: Partner or Coordinator in international (JOULE, BRITE, ENVIRONMENT, HUMAN MOBILITY, RAW MATERIALS, NATO, ENERGIE, GROWTH) or national (PENED, EPET, Greek-Romania bilateral) programmes.
PUBLICATIONS IN SCIENTIFIC JOURNALS
67 refereed journal papers. 59 refereed and 3 non-referred papers in international conference proceedings. Co-editor of 5 proceeding volumes of international conferences. 1 Greek patent, Translation of chapters in Greek of the textbooks: a) Chemical Principles: The Quest for Insight" (W. H. Freeman; Seventh edition (2016), p. 1088), P. Atkins, L. Jones, L. Laverman; b) "Physical Chemistry for the Chemical Sciences" (University Science Books, 2014),R. Chang and J.W. Thoman, c) "Chemistry for Engineering Students" (CENGAGE, Fourth edition 2019), L. Brown and T. Holme.
PRESENTATIONS AT CONFERENCES
Presentations in 146 international and national conferences.
OTHER PROFESSIONAL ACTIVITIES
Chair of Department of Pharmacy: 2003-2007; Vice Chair: 2009-2011; Senate University of Patras: 2003-2007; Research Committee Univ. of Patras: 2004-2013; Bioethics Committee: 2009-2014; Instrumental Pharmaceutical Analysis Laboratory Director 2006-.
Academic Duties
EU (REA-FP7) project evaluator; GSRT project evaluator; Cyprus Research Promotion Foundation evaluator; Journal Reviewer: Applied Spectroscopy, Analytica Chimica Acta, Journal of the Electrochemical Society, Journal of Membrane Science, Journal of Pharmaceutical and Biomedical Analysis, Chemistry of Materials, Talanta, Journal Molecular Structure, International Journal of Pharmaceutics, Analytical Chemistry, European Journal of Pharmaceutics and Biopharmaceutics, Spectroscopy Letters, Turkish Journal of Earth Sciences, Portugaliae Electrochimica Acta, Electrochimica Acta, Current Pharmaceutical Analysis, Journal of Materials Chemistry, Journal of Nanostructured Polymers and Nanocomposites, Journal of Raman Spectroscopy, Analytical Methods, Journal of Biomedical Science and Engineering, Journal of Chemical Technology & Biotechnology.
Other
Collaboration with numerous Pharmaceutical companies (foreign and domestic) for the development of new formulations. Annual funding from industry ca. 500 k€.
PROFESSIONAL AFFILIATIONS
Greek Chemist Association. Electrochemical Society. American Chemical Society. Society of Applied Spectroscopy, Hellenic Society of Biomaterials (founding member).
TEACHING ACTIVITIES
1992-2021: Instrumental Analysis, Separation Techniques and Electrochemical Methods, Organic Spectroscopy, Physical Chemistry (Undergraduate Courses, Dept. of Pharmacy, Univ. of Patras, Greece).
1994-2021: Electrochemical Methods, Modern Instrumental Analysis, Analytical Spectroscopy (Graduate Courses, Dept. of Pharmacy, Univ. of Patras, Greece).