KLEPETSANIS, Pavlos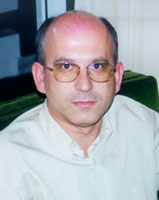 KLEPETSANIS, Pavlos
Associate Professor
Dept. of Pharmacy
University of Patras, Greece
Search
Research Project, Scientists etc
Search
EDUCATION
1991: PhD in Chemical Engineering, Univ. of Patras, Greece
1986: Diploma in Chemistry, Univ. of Patras, Greece
RESEARCH ACTIVITIES
Complexation of drugs using cyclodextrins, cosolvents and surfactants. Modified and controlled release of drugs from pharmaceutical forms containing cyclodextrins.
Physicochemical characterisation of colloidal pharmaceutical forms. Study of the electrokinetic properties and the stability of colloid suspensions, emulsions and microemulsions. Physicochemical study of microemulsions.
Biomineralisation and demineralisation.
Study of the effectiveness of polymeric and organophosphorus compounds in the prevention of the formation of sparingly soluble salts of alkaline earth metals.
Corrosion of metallic implants in biological fluids. Study of corrosion of the metallic implants and the effectiveness of organic coatings for the prevention of corrosion using DC and AC techniques.
PREVIOUS EMPLOYMENT
1993-1996: Post-Doctoral Fellow, ICE/HT-FORTH, Greece
PUBLICATIONS IN SCIENTIFIC JOURNALS
36 refereed journal papers
25 papers in referred conference proceedings
50 papers in non-referred conference proceedings
3 textbooks
PRESENTATIONS AT CONFERENCES
Presentations in 52 international and 33 national conferences.
TEACHING ACTIVITIES
Physical pharmacy, physical chemistry, radiopharmaceutics, advanced pharmaceutical technology of solids, liquids, semisolids pharmaceutical formulations and dispersion systems (Dept. of Pharmacy, Univ. of Patras, Greece).
SELECTED PUBLICATIONS
Pachis K., Blazaki S., Tzatzarakis M., Klepetsanis P., Naoumidi E., Tsilimbaris M. and Antimisiaris S.G., 'Sustained release of intravitreal flurbiprofen from a novel drug-in-liposome-in-hydrogel formulation', European Journal of Pharmaceutical Sciences, 109, 2017, p.324-333.
Aggelopoulos C.A., Moschopoulou E., Klepetsanis P.G. and Tsakiroglou C.D., 'Valorization of fruit wastes (Pistachio shells) as adsorbent for the removal of Zn from aqueous solutions under adverse acidic conditions', Desalination and Water Treatment, 74, 2017, p.174-183.
Trapani A., Mandracchia D., Tripodo G., Cometa S., Cellamare S., De Giglio E., Klepetsanis P. and Antimisiaris S.G., 'Protection of dopamine towards autoxidation reaction by encapsulation into non-coated- or –chitosan- or thiolated chitosan-coated-liposomes', Colloids and Surfaces B: Biointerfaces, 170, 2018, p. 11-19.
Skouras Athanasios, Papadia Konstantina, Mourtas Sryridon, Klepetsanis Pavlos and Antimisiaris G. Sophia, 'Multifunctional doxorubicin-loaded magnetoliposomes with active and magnetic targeting properties', European Journal of Pharmaceutical Sciences, 123, 2018, p.162-172.
Mourtas S., Christodoulou P., Klepetsanis P., Gatos D., Barlos K. and Antimisiaris S.G., 'Preparation of benzothiazolyl-decorated nanoliposomes', Molecules, 24(8), 2019, p.1540