LYBERATOS, Gerasimos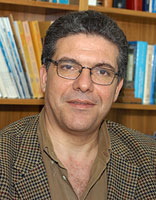 LYBERATOS, Gerasimos
Professor
School of Chemical Engineering
National Technical University of Athens (NTUA)
Search
Research Project, Scientists etc
Search
EDUCATION
1980: Bachelor of Science in Chemical Engineering, Massachusetts Institute
of Technology,USA
1982: M.S. in Chemical Engineering, California Institute of Technology,
USA
1984: PhD in Chemical Engineering, Institute of Technology, USA
RESEARCH ACTIVITIES
Biochemical Engineering , Environmental Biotechnology, Energy from Biomass, Wastewater Engineering, Solid Waste Management.
PREVIOUS EMPLOYMENT
Sep.1993 – 2010: Professor, University of Patras
1999 – 2003: Chairman Chemical Engineering, University of Patras
1994- 1997:Vice-Rector for Financial Planning and Development, University
of Patras
1990- 1993: Associate Prof., University of Patras
1988- 1990: Assoc. Professor(tenured), University of Florida
1983- 1988: Assistant Professor, University of Florida
1982-1984: Research Assistant, California Institute of Technology
1981-1982: Teaching Assistant, California Institute of Technology
AWARDS
Presidential Young Investigator Award (U.S. National Science Foundation)
1987 "Teacher of the Year Award" , AIChE Student Chapter, University of Florida
"Tau Beta Pi Teacher of the Year", College of Engineering, University of Florida.
PARTICIPATION IN RESEARCH PROJECTS
50 national and international research programs.
PUBLICATIONS IN SCIENTIFIC JOURNALS
156 refereed international journal papers.
PRESENTATIONS AT CONFERENCES
262 lectures in conferences, member of the organising committee in various conferences and chairman of 2 national and 2 international conferences.
OTHER PROFESSIONAL ACTIVITIES
Editor, Jounal of Hazardous Materials
Associate Editor, Waste and biomass Valorization
Associate Editor, Global Nest
Coordinator of "Solid Waste management" unit of the Graduate Programme on "Waste management", Hellenic Open University
President of the Hellenic Water Association (Greek Governing Member of the International Water Association)
Member of the Agricultural Academy of Athens
City Counselor (Municipality of Halandri), in charge of recycling
PROFESSIONAL AFFILIATIONS
International Water Association, Technical Chamber of Greece, Panhellenic Society of Chemical Engineers.
TEACHING ACTIVITIES
31 years of teaching in the Departments of Chemical Engineering at Univ. of Florida. University of Patras and the National Technical University of Athens: Biochemical Engineering, Environmental Engineering, Environmental Biotechnology, Mechanical Process Equipment Selection and Design, Process Control, Thermodynamics and Fluid Mechanics.
SELECTED PUBLICATIONS
Antonopoulou G., Gavala H., Skiadas, I.V. and Lyberatos G., "Modelling of fermentative hydrogen production from sweet sorghum extract based on modified ADM1", International Journal of Hydrogen Energy, 37,1, 191-208, (2012)
Antonopoulou, G., Stamatelatou, K., Bebelis, S., Lyberatos, G. "Electricity generation from synthetic substrates and cheese whey using a two chamber microbial fuel cell", Biochemical Engineering Journal, 50 (1),p.p.10-15 (2010)
Kornaros, M., Dokianakis, S.N., Lyberatos, G., «Partial nitrification/denitrification can be attributed to the slow response of nitrite oxidizing bacteria to periodic anoxic disturbances», Environmental Science and Technology,44 (19 ),pp.7245-7253, (2010)
Ntaikou I., Kourmentza C., Koutrouli E., Stamatelatou Κ., Zampraka A., Kornaros M., Lyberatos G., "Exploitation of olive oil mill wastewater for combined biohydrogen and biopolymers production", Bioresource Technology, 100 (15), pp. 3724-3730 ,(2009)
Pakou C., Kornaros M., Stamatelatou K. and Lyberatos G., "On the fate of LAS, NPEOs and DEHP in municipal Sewage Sludge during composting", Bioresource Technology, 100 (2009) 1634-1642
Antonopoulou G., Stamatelatou K., Venetsaneas N., Kornaros M., and G. Lyberatos,   Biohydrogen and Methane Production from Cheese Whey in a Two-Stage Anaerobic Process, Ind. Eng. Chem. Res. 2008, 47, 5227-5233, (2008)