PARASKEVA, Christakis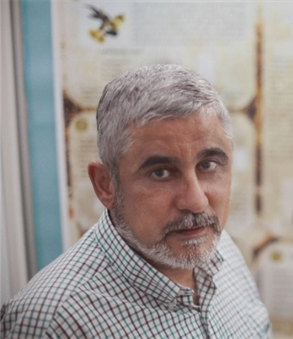 PARASKEVA, Christakis
Professor
Dept. of Chemical Engineering
University of Patras, Greece
Search
Research Project, Scientists etc
Search
EDUCATION
1992: PhD in Chemical Engineering, Univ. of Patras, Greece
1986: Diploma in Chemical Engineering, Univ. of Patras, Greece
RESEARCH ACTIVITIES
Separation Processes, wastewater treatment by membrane filtration technologies (Ultrafiltration, Nanofiltration, Reverse Osmosis, distillation, crystallization, adsorption, extraction, evaporation, freeze drying, etc. Applications in agro-industrial wastewater treatment technologies.
Isolation and purification of bioactive compounds with high added value, from agro-industrial wastewaters.
Technologies and particle separation methods, Particulate systems, Flow in granular porous materials, filtering of particulate pollutants, colloid particle migration within soil, computer- aided simulation of particle transport and deposition within porous media (dynamic behavior of deep bed filtration systems).
Water & wastewater treatment methods, Design of water and wastewater treatment systems, Environmental Management and Protection.
Crystal growth in porous media, consolidation, and stabilization of non -aggregated porous materials with inorganic salt precipitation, deposition of sparingly soluble salts in oil extraction rock formations: Applications: Consolidation of poorly consolidated oil reservoirs, stabilization of sandy soils for building purposes, protection of soil from water and wind erosion, water proofing of underground constructions (tunnels) and rainwater reservoirs.
PREVIOUS EMPLOYMENT
1992-2001: Post-Doctoral Fellow, FORTH/ICE-HT & Technical Staff at Dept. of Chemical Engineering, University of Patras.
AWARDS
Government Scholarship Committee, Cyprus, undergraduate scholarship (1981-1986), Lordos Institution, Cyprus, undergraduate scholarship (1984-1985), ELDA (Greek Refineries), graduate scholarship (1986-1989), ICE/HT-FORTH Graduate Fellowship (1990-1991), member of Organizing committees of local (6) and international conferences (3).
PARTICIPATION IN RESEARCH PROJECTS
Participation in international (BRITE- EURAM, ENERGY, TEMPUS, INCO-Copernicus, CRAFT, IST, Environment & Climate; Environment and Sustainable Development; Regions of Knowledge, INTERREG, LIFE, etc.), national (EPET/SPA, STRIDE, EPET, ESPA, SYNERGASIA, ARISTEIA II, PENED, PAVE, etc.) and industrial research projects.
Funding (PI or coordinator; more than 1,200,000 Euros (laboratory budget)
PUBLICATIONS IN SCIENTIFIC JOURNALS
64 refereed journal, 8 papers in books, 56 papers in proceedings of international conferences, 47 papers in proceedings of national conferences.
PRESENTATIONS AT CONFERENCES
Participation in 50 international and 40 national conferences, 8 posters in international conferences.
OTHER PROFESSIONAL ACTIVITIES
Reviewer in 60 journals
Reviewer in Research Proposals submitted to GSRT, EYDE/ETAK (ELIDEK), IKY (Greece), QNRF (QATAR), FONDECYT SCIENCE (CHILE), CARIPLO FOUNDATION-AGER (ITALY)
Guest Editor in 3 special Issues
Granted patents (1)
Member in the organizing committee of National (7) and International conferences (2), member in international scientific committee (1)
Award for papers in Conferences (2), award for best posters in Conferences (4)
Participation in more than 30 projects
PROFESSIONAL AFFILIATIONS
American Institute of Chemical Engineers (AIChE), American Filtration Society (AFS), Technical Chamber of Greece (TEE), Greek Association of Chemical Engineers.
TEACHING ACTIVITIES
Unit operations I, Unit Operations II, Laboratory of Unit operations I & II, Mass Transfer, Fundamentals of Chemical Engineering II (fluid mechanics, heat, and mass transfer -graduate level).
SELECTED PUBLICATIONS
AG Pantziaros, XA Trachili, AD Zentelis, V Sygouni, CA Paraskeva, A new olive oil production scheme with almost zero wastes, Biomass Conversion and Biorefinery 11 (2), 547-557, 2021
DP Zagklis, CA Paraskeva, Preliminary design of a phenols purification plant, Journal of Chemical Technology & Biotechnology 95 (2), 373-383, 2020
Varvara Sygouni, Alexis G Pantziaros, Iakovos C Iakovides, Evangelia Sfetsa, Polychronia I Bogdou, Emilia A Christoforou, Christakis A Paraskeva, Treatment of two-phase olive mill wastewater and recovery of phenolic compounds using membrane technology, Membranes 9 (2), 27, 2019
Revisiting of coagulation-flocculation processes in the production of potable water, FK Katrivesis, AD Karela, VG Papadakis, CA Paraskeva, Journal of Water Process Engineering 27, 193-204
DP Zagklis, CA Paraskeva, Isolation of organic compounds with high added values from agro-industrial solid wastes, Journal of environmental management 216, 183-191, 2018
Sofia Jaho, Varvara Sygouni, Stamatia G. Rokidi, John Parthenios, Petros G. Koutsoukos, Christakis A. Paraskeva Precipitation of Calcium Carbonate in Porous Media in the Presence of n-Dodecane, Crystal Growth & Design 16 (12), 6874-6884, 2016
DP Zagklis, AI Vavouraki, ME Kornaros, CA Paraskeva, Purification of olive mill wastewater phenols through membrane filtration and resin adsorption/desorption, Journal of hazardous materials 285, 69-76, 2015
ID Kovaios, CA Paraskeva, PG Koutsoukos, AC Payatakes, Adsorption of atrazine on soils: model study, Journal of Colloid and Interface Science 299 (1), 88-94, 2008
MG Lioliou, CA Paraskeva, PG Koutsoukos, AC Payatakes, Heterogeneous nucleation and growth of calcium carbonate on calcite and quartz, Journal of colloid and interface science 308 (2), 421-428, 2007
C. A Paraskeva, V. G. Papadakis, E. Tsarouchi, D. G. Kanellopoulou, P.G, Membrane processing for olive mill wastewater fractionation, Desalination 213 (1-3), 218-229, 2007