Event Date: 25-05-2017, 00:00
Event Location: Thessaloniki Concert Hall
STRATIS V. SOTIRCHOS Lectureship Award 2017
AWARDS, STRATIS V. SOTIRCHOS Lectureship Award
The 2017 "Stratis Sotirchos Lectureship Award" was received on Thursday, May 25, 2017, by Dr. Hal Alper, Associate Professor, Department of Chemical Engineering, University of Texas at Austin, USA in a special ceremony during the 11th Panhellenic Chemical Engineering Conference at Thessaloniki Concert Hall. Dr Alper presented the award lecture entitled "Engineering an expanded chemical palette in cells".
Dr. Hal Alper received his B.S. in Chemical Engineering from the University of Maryland College Park in 2002 and his Ph.D. in Chemical Engineering from MI2 in 2006. He has served as the Principal Investigator of the Laboratory for Cellular and Metabolic Engineering at The University of Texas at Austin since 2008. He has authored more than 75 peer-reviewed publications, 8 book chapters, 8 non-peer reviewed publications, with over 5,600 citations with an h-index of 34, and 13 patents and patent applications (of which 5 are licensed to companies). His research focuses on metabolic and cellular engineering in the context of biofuel, biochemical, and biopharmaceutical production in an array of model host organisms. He helped establish an approach termed "promoter engineering", towards the rational design of synthetic promoters especially with respect to fungal transcriptional control. He is Reviews Editor for the journal Metabolic Engineering, Editorial Board Member for the journal Synthetic and Systems Biotechnology, and Associate Editor for several Journals. He has received numerous important awards and distinctions, among which most recently the University of Texas at Austin Emerging Inventor of the Year Award (2016), the American Chemical Society BIOT Division Young Investigator Award (2016), the Society for Industrial Microbiology and Biotechnology Young Investigator Award (2015), the Jay Bailey Young Investigator Award in Metabolic Engineering (2014), the Chevron Centennial Teaching Fellowship in Chemical Engineering (2011-2013), the DuPont Young Professor Award (2010) and the Camille and Henry Dreyfus New Faculty Award (2008).
FORTH/ICE-HT created the "Stratis V. Sotirchos Award" to honor the memory of one of its most distinguished Researchers, Professor Stratis V. Sotirchos, FORTH/ICE-HT Research Director. The awardee, younger than 40 years of age, is selected by a committee of internationally renowned scientists, on grounds of having produced original and fundamentally important results in chemical engineering sciences.
Previous Recipients of "Stratis Sotirchos Award":
2005: Professor Michalis Tsapatsis, University of Minnesota, USA
2007: Professor Costas Maranas, The Pennsylvania State University, USA
2009: Associate Professor Patrick S. Doyle, Massachusetts Institute of Technology, USA
2011: Associate Professor Yiannis N. Kaznessis, University of Minnesota, USA
2013: Professor Michael S. Strano, Massachusetts Institute of Technology, USA
2015: Professor Ali Khademhosseini, Harvard Medical School, USA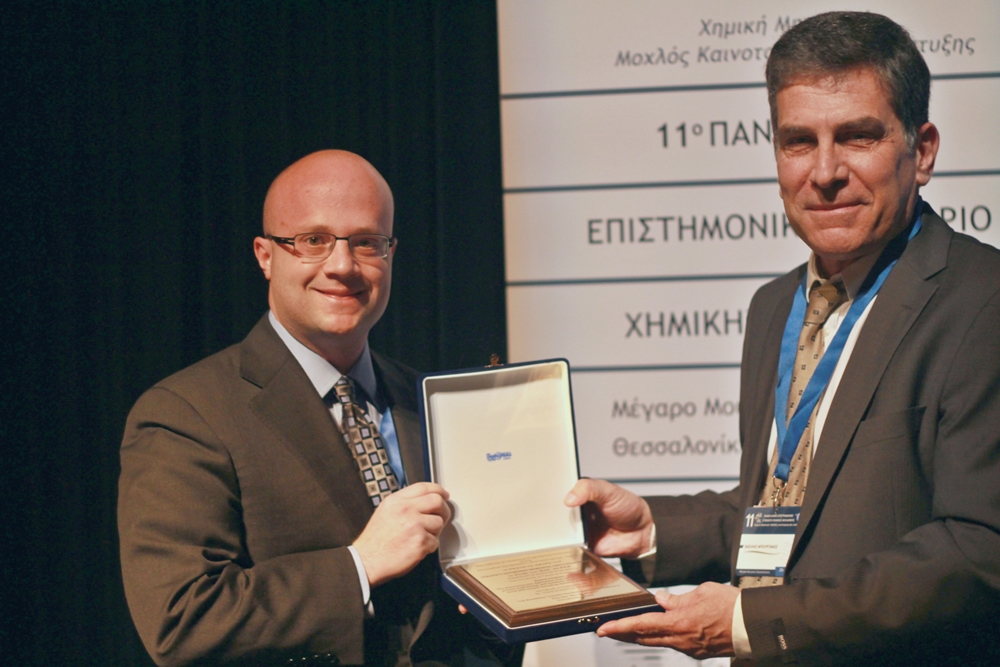 Location Information
Thessaloniki Concert Hall
25is Martiou
Organizer
FORTH/ICE-HT
Stadiou Str., Platani
www.iceht.forth.gr
Event starts: 25-05-2017, 00:00